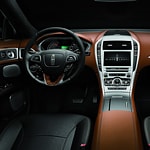 The world of mid-size luxury sedans has a new contender when it comes to luxury and performance. The Lincoln MKZ has seen some incredible innovations when it comes to creating a more rewarding driving experience. Here are two top performance features of the Lincoln MKZ.
The MKZ now offers a hybrid model that allows this luxury sedan to enjoy a combined 42 miles per gallon. This increase in fuel efficiency comes without compromising the overall performance of the vehicle. Also, the MKZ offers an all-wheel-drive to allow for better control on the road. Overall, the MKZ has made some incredible strides when it comes to overall performance.
We invite you to take a test drive of the popular MKZ sedan at Bergey's Auto Dealerships. This is your opportunity to see all the amazing features that this top Lincoln sedan offers. Do not hesitate. We expect our inventory of the MKZ to move quality.